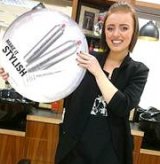 Amber
-
Stylist
Amber is currently on Maternity Leave and we miss her very much. Shannon, Soraia and Maria are taking care of her guests whilst she is away…
Amber joined us after completing her NVQ Level 2 at the Holbeach Academy in 2015.  She achieved her NVQ Level 3 Advanced Hairdressing Apprenticeship in 2016 and has continued to flourish and grow into talented young stylist who is able to turn her hand to many styles and colours. 
Amber has a passion for all aspects of ladies hairdressing and has natural ability to make her guests feel welcome and relaxed.  Her advanced knowledge allows her to think beyond the basics and deliver skills that as a young stylist in a salon, seem to be above expectation.
Amber loves to create hair for special occasions, if you have a ball or party or perhaps you would like a blow dry  after your colour service, she will finish your hair with a professional, lasting style that will rival home styled locks every time.
For the price conscious, Amber is on the first rung of our price ladder and if you use the half price voucher, found in 'Special Offers', you would get a very good price for your first cut and style.  A lot of parents who already attend the salon have used this voucher to introduce their teenage children who like to have the full service.  Our offers are, one discount per service, so we generally give the highest available.  General student discount is 10%.