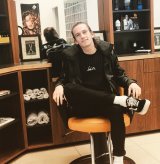 Rory
-
Stylist
Rory has been working on salon guests since December 2018.  His passion for his craft has been evident since day one.  His dedication to developing his skills is reflected within the speed he got on to the shop floor.
Everyone adores Rory as his caring nature puts everyone at ease.
Rory currently charges £29 for a ladies cut and style and £27.50 for men.