Saturday 26th March saw the much anticipated Salon Alchemy Charity Dinner & Dance 2016 take place.  The team decided to put together a night to commemorate Rocco being in business for ten years, five years as Salon Alchemy, by hosting an evening to raise much needed funds for the Little Princess Trust.  The charity provide children with wigs who have suffered hair loss through cancer or related treatment.
The event was held at the South Holland Centre in Spalding and the team behind the scenes there were extremely helpful and hands on to ensure the night ran smoothly both in the run up to it as well as during. We were very fortunate to have the photo back drop donated by Carl & Jill Pybus at Graphix Design & Print who also redesigned all our leaflets and vouchers last year.  Based in Surfleet, they were very close by and Kelly is now in total belief of guardian angels as at the very time she was struggling to arrange the back drop, through trying to do too many things at once, Carl came strolling into the hall and sorted it in a flash! He was not even supposed to be going in but had finished the table plan early so popped it in.  Our kind hearted friend Tia Chapman was our photographer for the evening and she was superb with her eye for a story-picture and professional confidence.  We wish Tia every success in her future when she begins her new journey at University in September to embark on a teaching career.
Guests began to arrive from 7pm and in no time, the bar was buzzing with laughter and chat ready for the fun ahead.  Dinner was served from 7.30pm by John Norman and his wonderful team at Caterwell.  They served a two meat carvery followed by a choice of delectable desserts.  It tasted even better than it smelled and with fuel in their tummies they were ready for the next stage of the evening.
With it being Easter weekend, it was decided to add a spin on the usual game of heads and tails that is commonly played at such events.  All guests were invited to play to win £50 cash for just a £5 entry.  They chose whether to have bunny ears, usually hands on their heads, or chick wings, usually hands on their err… derriere!  The host flipped a coin and shouted out whether it landed on heads or tails!  If you chose correctly, you kept standing and playing until just a handful remained who then stood at the front.  The winner was local father of two, John Moore.  Despite his wife Vanessa's joy at him winning the prize, John made the very noble decision to donate the £50 back to the charity.
The main raffle followed which caused much laughter as it was decided to draw five tickets before the party started and they could choose their prizes however, Alfie, son of Salon Owners Rocco and Kelly, pulled the first ticket and the winner leapt up to take first pick.  Alfie then picked out Rocco's raffle ticket totally innocently which caused a burst of laughter and banter so it was decided to try again for the sake of the guests and he then pulled Kelly's ticket out!  Hilarious!  Once we were finally back on track, the remaining 35 prizes would be drawn later in the evening and the tickets placed on the prizes for guests to match up.
Just before the dancing began, Kelly took the occasion to thank the team for all their hard work not just in the run up to event as Tara had been plentiful with ideas and Natalie had been successful in sourcing many raffle prizes and goody bag gifts plus Lorna had designed and created all of the heads that were used as table pieces, but also for their day to day professionalism.  Part of the celebrations were due to them winning Best Customer Service at the Boston Standard Business Awards back in October 2015. 
Then it was time for another announcement.  The team were under the impression that Rocco was booked out of the salon that morning to help set the hall up for the evening.  But that was not actually true!  After a decade and a half together, Rocco and Kelly finally tied the knot and became Mr & Mrs Tizzano that morning in a very small ceremony at the Spalding registry office.  At Christmas they decided it would be fun to turn up to the dinner and announce 'We got married!'.  After sneaking to give their notice seven weeks prior, they managed to keep it to themselves until they had to inform their witnesses a few days before.  Son Alfie was given the rings the night before and asked what he thought they could be for and he was so excited when he realised what was happening.  The revellers who heard Alfie shout 'They got married!!' all screamed and cheered, some even cried with joy!  The newlyweds were then engulfed by an array of hugs, kisses and congratulations.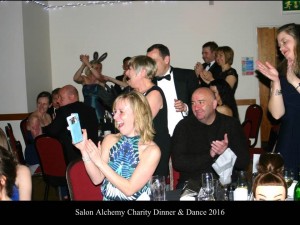 With that local band Zebra, added to the already electric atmosphere and everyone danced the night away to floor fillers such as 'Let Me Entertain You', 'I Gotta Feeling' and 'Mustang Sally' for which a friend of our stylist Lorna sang the backing vocals!  Everyone loved it!  The band also brought their DJ along and in-between sets he played requests from the crowd.  Zebra did not just turn up to the event, they were on hand at all times to give advice and encouragement to help the evening run smooth.  Rest assured the music was so good, we all earned a few easter egg calories!
The evening was a huge success raising £3700 for the Little Princess Trust.  Thank you to everyone who attended or donated and eternal gratitude goes to our raffle prize donations.  Salon Alchemy look forward to hosting another event in the future. 
All of the photos can be viewed, and shared with your friends via our facebook page.  CLICK HERE FOR PHOTOS
Special thanks to:
Oldrids Department Store,  Tonic Health,  Thurlby Motors,  The Kitchen,  Halo Furnishings,  Ragdale Hall,  Boston Golf Club,  Crown Affair,  Black & White Coffee,  Blankey Golf Club,  Butlins Skegness,  Starline Ltd,  Salon Success,  Baytree Garden Centre,  Lincs COOP Travel,  Boston Womens Aid, Tip2Toe,  Liverpool FC,  Peterborough Greyhounds,  The Sack Store,  Rand Farm Park,  Boston Audi,  K.A. Stone,  B. Draper,  Hovenden Park, Palytowers,  A. Hull,  Boston College,  S. McGuire,  The Parrot Zoo,  S. Pinner,  J. Dimbleby,  SNG Electrical,   T. Javadi.